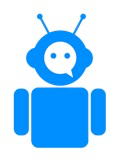 For many years companies have used CRM systems to assist users in performing operations and obtaining information. However these usually lead to users getting lost in a sea of information or waiting impatiently in queues that require trained personnel - which inevitably end up in incomplete and often frustrating user experiences.
With the introduction of Bots and Artificial Intelligence there has been a steady raise of platforms and solutions that automate and improve this process. Examples of these are IBM's Watson, Microsoft, Facebook and Chatfuel - and more recently a new one: Oracle IBCS.
Oracle's solutions is still under development but it is rapidly shaping itself as a new competitor in the market with its main advantage being the integration with other cloud services from the same vendor which reduce the complexity in integrating existing solutions.
The logic is developed in two parts: on one hand, the conversation flow with the end user and on the other, the components and business logic built on NodeJS used to process data introduced by the user, which will trigger actions in the company's platform that reside in the Mobile Cloud Service (MCS).
The conversational flow - in its first version - requires knowledge of YAML and it is written in its entirety in a single file - which of course is not very intuitive. However, there is already a UI under development which will allow both creating and modifying bots without any prior knowledge of this format.
On the flip side, both training and debugging of the "Intelligence" (neural network) to interpret data is completely visual and uses a chat-style user interface that allows interacting with the bot to tune up answers and improve precision.
Another consideration is support for multiple languages, which the platform is already compatible with, allowing to recognise and speak in a natural language as if interacting with people. However English is obviously more developed than the rest of the languages supported. Conversations are stored hence it's possible to continue at the point where it was left or even export them in CSV format to analyse and improve the Bot, as well as for other ends.
As expected, the system works in an asynchronous way by using web hooks or web sockets for communicating with client interfaces. It currently supports connecting to Facebook or channels that use generic web hooks but it is expected that this list will grow in the future removing the use of intermediate bridges.
The Banking Bot proof of concept
In the 2nd trimester of 2017, Oracle Iberica and BSS reached a collaboration agreement to jointly develop a Banking Bot proof of concept, in which users interact with a Bot to operate and solve frequent issues through the use of Facebook Messenger/web, custom mobile apps, cars with Android Auto or with Amazon's personal assistant Alexa.
The feedback received has been "magnificent" - as described by customers exposed to the concept - even with the demo being created with an early version of ICBS. If you haven't seen it yet, take a look at the video below. If you'd like to know more, just drop us a line to get in touch.