Solutions
Approval-type Business Processes
Over the course of 2014, we have developed a special solution built on top of the Oracle BPM stack called e-Approval. This solution allows customers to create multi-tenant approval-type business processes by means of configuration using UI tools.
Traditionally, BPM projects are modelled, built and deployed using a life-cycle approach and different tools in the process. It involves many stake-holders including Business Owners, Analysts, Process Architects and Developers and finally a Platform Team to deploy the solution. Additionally, in our experience we have found that a great portion of business processes developed are actually a variation (or form) of an approval process.
With this in mind, our team has created a generic approval-type solution that allows configuring business processes instead of building them, with the following benefits:
For Business:
multi-tenant: multiple flows can be configured independently
almost no development required (except for customisations and/or business rules) thus greatly reducing Time to Market and Cost
no dependencies on other teams: self-adminstration UI to configure new or changing existing flows
avoid re-deployment delays: changes are applied instantly
For IT:
one solution supports multiple business processes, thus reducing the overall cost of both hardware and licenses
easy to maintain and roll-out new releases
the solution can evolve over time with minimal impact on the existing flows
reducing the amount of deployments lessens the risk of platform downtime and restarts
If you would like to know how you can benefit from using e-Approval in your organisation please don't hesitate to Contact Us.
Current Initiative: Task-based Business Processes
As well as continuing to evolve e-Approval, we are also developing a new solution to allow customers to configure task-based business processes, which allow the resolution of one or more tasks depending on the type of request.
The solution has the following characteristics:
A task engine that is able to assign an unlimited number of tasks to different resolution groups

An optional approval / review stage can be configured so that the list of tasks are checked and additional information entered before being sent for resolution

Each task can have its own approval / resolution flow, optionally making its resolution conditional through the use of rules

Tasks can be grouped by categories and added to a global catalogue, potentially integrating with Asset management systems and external providers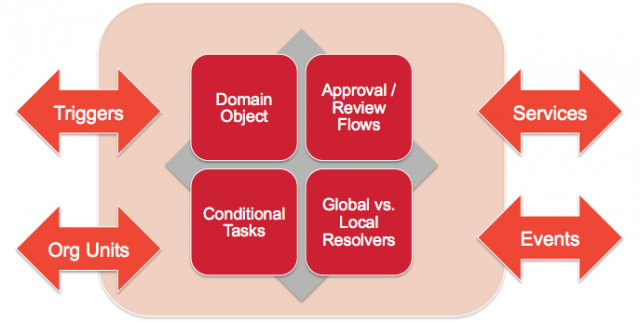 Where can this solution be used? The typical scenarios would be a:
pre or off-boarding processes
service desks
any business process that requires a list of tasks to be executed
The benefits are:
Configure processes instead of developing, thus reducing development times
Deploy changes immediately
Reduce cost and time to market